Pyrography, or Woodburning, a new category?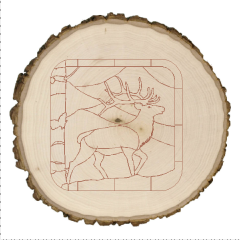 When I started putting this web site together to offer patterns, I called it "Outside the Box" because I hoped that I and those who used my patterns could find many interesting ways to incorporate the patterns into different types of hobbies, or businesses. I have had many people request drawings or patterns for projects they are doing, and I have alway tried to oblige. Sometimes, I haven't even charged for making the drawing as I was able to incorporate it somewhere within the different patterns I am offering.
One hobby I totally missed until recently is Woodburning. Looking at some of the items people are making, I realized many of the free patterns offered here would be perfect for different creations. I also have drawings that I have never been able to use, that just might work well for woodburning.
If you are looking for a new hobby, or are doing woodburning now, I hope you will take a look through out web site for patterns. Remember, I can resize any pattern to any size you might want.
-jim
---
International Customers
Due to the increased costs for mailing patterns to foreign countries (including Canada, and Mexico), starting July 1, 2016, we will email patterns in PDF format to ALL foreign customers using the email address supplied by PayPal. Sorry for any inconvenience, we strive to keep our costs as reasonable as possible.
---
Visit our facebook page to see how others have used our patterns.
Please like us on facebook if you like using our FREE and inexpensive patterns.
---
Don't Forget the Holidays
No matter if you are a professional, or hobbist, woodwork, or leathercrafter, there are a number of holidays throughout the year you can take advantage of to plan your work. We have plenty of patterns suitable for those special times. Don't let a great gift giving, or selling opportunity slip by.
---
When you buy from a mom or pop business, you are not helping a CEO buy a third vacation home. You are helping a little girl get dance lessons, a little boy get his team jersey, a mom or dad put food on the table, a family pay a mortgage, or a student pay for college. Our customers are our shareholders and they are the ones we strive to make happy. Thank you for supporting Small Businesses!