About Us...
We don't just sell patterns. Looking for a special design? Do you have a complex design and need help with the drawings? I can help. Email your idea, or sketch to me today for a price quote.
How
"Outside the Box"

was born...

I have been a design draftsman for over thirty years. As I began to approach retirement age, I wanted to find some way to use my experience as a designer to fulfill my retirement years in some meaningful way. Since I was already working for a waterjet company in Ogden, Utah, I started offering some of my medallion designs to local tile companies with the idea they could sell more tile by offering their customers semi-custom floor medallions. It was a win-win situation all around as the tile companies were able to offer services that cost them nothing while providing their customers with a beautiful medallion in the same materials as the rest of their floor.

While trying to come up with ideas for new designs, I started digging through nearly thirty years of design work files, and searched through stored away dusty boxes. I even pulled out some ancient doodlings to use as I began to put together an interesting collection of drawings. I quickly realized that some drawings were more suitable for woodworking, or some custom medallions were suitable to use as intarsia art patterns.

So, as the collection grew, so did my ideas of how to use them. Inside this website you will find many different types of plans and patterns designed to help you make beautiful finished items for your home, office, or to sell.

I will continue to work on new ideas and designs as long as people are interested in my patterns. I enjoy seeing how people have found different ways of using my patterns. I invite you to send pictures of your completed projects to me.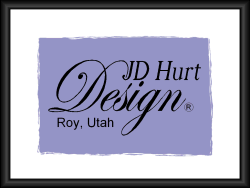 Jim Hurt
Outside the Box Patterns and Plans for the hobbyist, and the professional.

..... see more designs »
Visit JD Hurt Design »
WHAT OTHERS SAY ABOUT OUR PATTERNS . . .
Hi Jim,

Just wanted to tell you I really enjoy your patterns. The details and instructions are the best. I have scroll sawed for many years and can't remember having any as fantastic. Keep up the good work!
- ljdamron
Dear jim,

I just wanted to thank you for the gun rack pattern you sent. It is an honest to goodness pattern, and full size at that! Some so called patterns I've received off eBay lately are nothing more than a down sized waste of paper that are not what I call a real pattern like yours are. You should be proud of your product...I feel it is far superior to others and thank you so very much. Have a Blessed day.
- rutabager