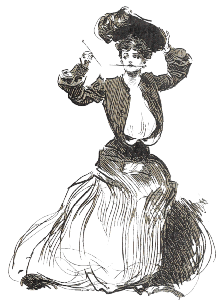 Vintage Style Hat Pins for sale.
Designs by Tina
Hatpins are long decorative pins originally used to hold wimples and veils in place. During the 1880's, bonnets gave way to hats, and the use of hatpins soared. They were used to hold a hat or scarf to the head, usually by the hair. Hatpins were also used as Lapel Pins to dress up a Jacket or Coat.
Tina's hatpins are made with bright silver plated or gold plated stems and include a cap to secure pin end. The beads used are made from Glass, hand blown glass and Metal. Some include semi-precious stones, and/or antique beads. Photos can only show so much of the pins. You must see to truly love these hat pins. No two pins are alike, and each is one of a kind. All pins are designed and handcrafted by Tina in the USA.
You will also find a large selection of other jewelry items at
Celtic Faerie Jewelry Company
, Tina's Ebay Store.
Silver Plated Pins
Pin #
Image
Description
Length
Price
HP-09
Hat Pin #9

Floral decorated white glass bead is set off with two round red glass bead and one elongated red glass bead, all are separated by three metal beads.

7 inches
$8.00
HP-14
Hat Pin #14

Iridescent blue/silver faceted glass beads separated by three silver collar beads inserted with rhinestones and two other metal beads.

5 inches
$6.00
HP-30
Hat Pin #30

Two blue round beads with pink flowers inside separated by a rhinestone collar really set this hat pin off. Two small blue beads begin and end this one.

5 inches
$6.00
HP-38
Hat Pin #38

Amber colored faceted glass bead with two gold filigreed metal beads with rhinestone accents finish off this hat pin.

7 inches
$8.00
HP-39
Hat Pin #39

Carved red Cinnabar flower bead with two round red glass beads and a silver metal cap set this hat pin off.

7 inches
$8.00
HP-40
Hat Pin #40

Carved red Cinnabar flower bead with two silver metal cap beads head this hat pin. Round carved red cinnabar bead with open center that has a silver metal filigreed bead added for charm.

7 inches
$8.00
HP-43
Hat Pin #43

Two small blue glass beads highlight a blue background caned bead with white/yellow and red flower canes.

5 inches
$6.00
HP-44
Hat Pin #44

Light aqua blue dipped glass bead separated by clear glass bead with three silver cap beads add class to this hat pin.

5 inches
$6.00
HP-45
Hat Pin #45

Two ruby red colored glass beads with an iridescent dark purple bead enclosed with to rhinestone collar beads for this hat pin.

5 inches
$6.00
HP-46
Hat Pin #46

Two small black faceted glass beads add sparkle to a black carved cinnabar diamond shaped bead. Total length 5 inches.

5 inches
$6.00
HP-49
Hat Pin #49

Red/green splashed paint with silver swirls adds character to the roundish bead with a silver leaf cap. Round ruby red glass bead sits upon an elongated carved ruby colored glass bead which are separated by three silver metal collar beads finish this hat pin.

7 inches
$8.00